Cow's cause is named for Scout aka "Cow" the inspiration behind the Equine Cancer Society. Fighting cancer is not only emotionally overwhelming, but it is financially as well. ECS has decided to start a program to help ease some of the financial burden to the horse owners during these hard times. Each year ECS picks a recipient of Cow's Cause. The chosen horse will receive funds from special auctions and fundraisers to cover medical expenses. The chosen equine also will be featured in our calendar, receive an Equine Sunvisor with their name embroidered on it, and a year's supply of Hayfers Horse Treats. We will be updating everyone on the horse's recovery and status on our Facebook page as well as auctions and fundraisers.To donate to Cow's Cause just click the "Donate" button below!
Meet Rio Our 2016 Recipient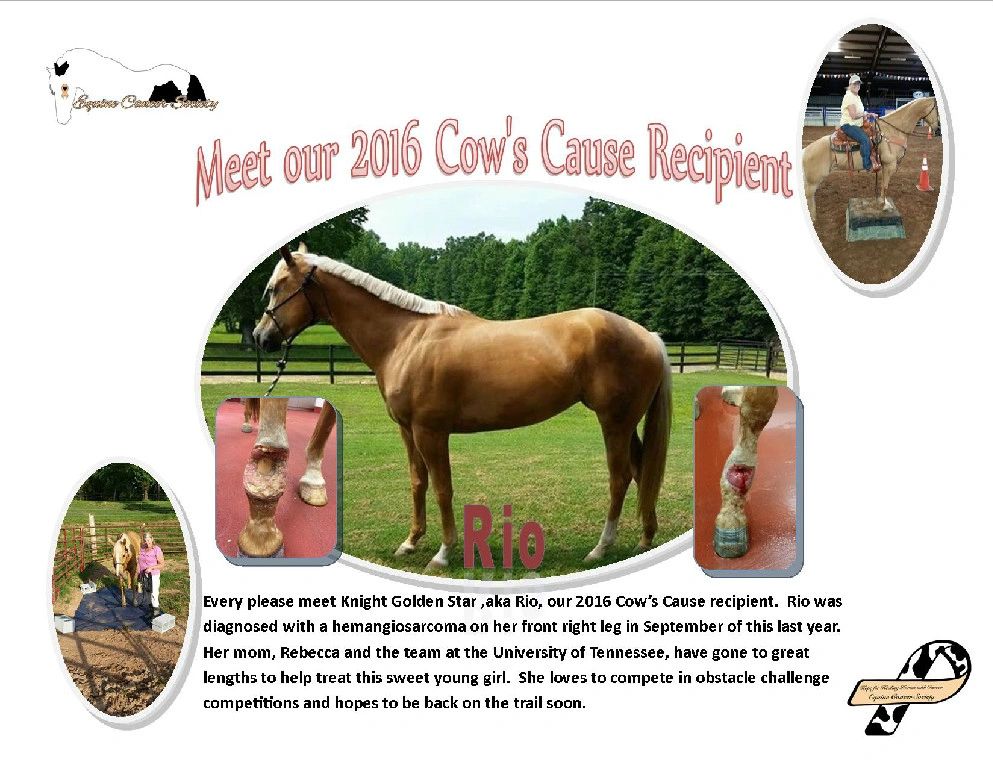 Meet Cinniman our 2015 Recipient!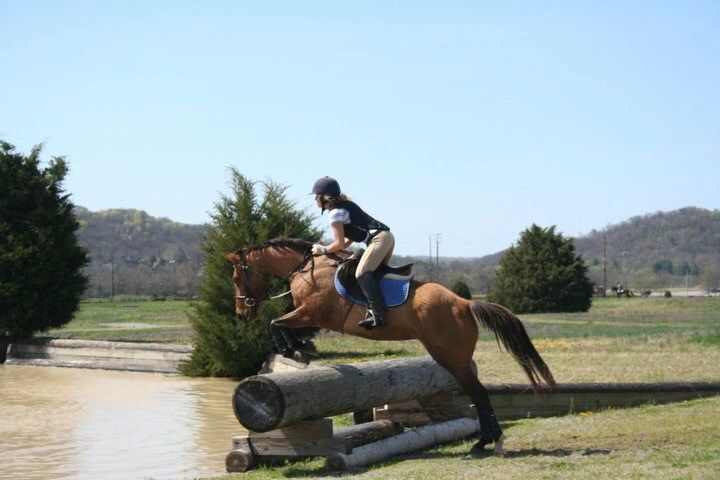 Cinniman was purchased by her owner Courtney in 2003. At the time Cinniman was a young 11 months and Courtney, just 12 years old. Courtney had saved all of her birthday and Christmas money to buy Cinniman, her first horse. Not knowing anything about horses, she took this scared filly straight from the pasture and turned her into a collegiate state title winner. Cinniman was diagnosed with periocular cancer on her left eye. WE are honored to help her fight her battle.
Meet EO aka Big Sexy our 2014 Recipient!
Meet EO aka Big Sexy a sweet loving gelding with a nodular sarcoid on his left eye. He is a very special horse with a very special family. He was saved by the Huddleston family along with two other horses. He is wonderful with children and especially to the Huddleston's middle son who has Autism. Even though his sight is becoming altered he still has a loving heart of gold. We are honored to help such a sweet boy and his loving family.
Meet Cookie! Our 2013 Recipient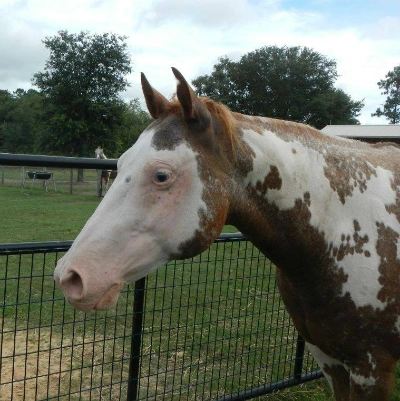 Cookie, is a sweet girl who has had a rough start in life. She is a rescue at Beauty's Haven Equine Rescue in Florida that was diagnosed with Squamous Cell Carcinoma.
Cow's Cause Application
(Click on the link below to upload the application. Be sure to fill out all information and send with a picture of the nominated horse to the address/email listed on the form)
Please note the following rules and specifications for Cow's Cause. The winner may be asked to show proof of diagnosis as well as veterinary records. All net funds from the auction or any donations to Cow's Cause will be made to the veterinary facility of choice for use by the selected horse. References will be verified before winner is chosen. Applications must be filled out by an adult 18 years of age or older. ECS does not guarantee a specific monetary amount and amounts may differ from years previous. Only one horse per year will be chosen by ECS board members. For any specific questions please email us at
equinecancersociety@mail.com
To Donate to our current Cow's Cause recipient, please use the "Donate" button below! Thank you!